WanderLove is about doing what you love with the people you love. Follow your WanderLove impulse and enjoy a laid-back day trip to Smithfield and Isle of Wight County? Charming Main Street offers quirky attractions, specialty shops, galleries and restaurants. There are plenty of ways to get outside and enjoy the outdoors - including a river beach, and a riverside park. Your trip to Hamtown USA will be a great way to reconnect as you explore this hidden gem of a small town.
Safety is our commitment to you!
Check out our WanderLove Podcast Series!
Check out "Where Urban Newport News meets Rural Smithfield" WanderLove itineraray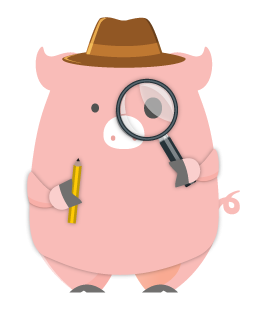 WanderLove Road Games booklet: This fun activity book is eight pages of old-school word games, jokes and more for kids - of all ages - to enjoy on your road trip. You can download the booklet by using the link below or pick up copies at the Smithfield Visitor Center.
Click here for the downloadable version of the WanderLove Road Games booklet.
DAY TRIP ITINERARY: Road Trip to Hamtown USA

A visit to Smithfield and Isle of Wight will make it clear that the town celebrates its title of "Ham Capital of the World." Join us for the day to experience "hams, history, hospitality and heart!"
As they say, the journey is the destination. Whether it's along scenic country roads, or the free ferry from Jamestown – getting to Smithfield and Isle of Wight County will be half the fun!

Start the day at the Isle of Wight County Museum for an overview of the area's rich history and to see its most famous artifact – the 100+ year old "world's oldest ham." The Museum has lots of other interesting exhibits, including a life-size smokehouse and recreated country store. The museum's gift shop offers fun ideas for souvenirs of your trip.
Check out our video on the Isle of Wight County Museum!

Time to get outside a bit for some fresh air and to take in the town's scenery. How about a walk on Windsor Castle Park's winding trails along the Pagan River? The park is located in the heart of downtown Smithfield and offers four miles of trails featuring scenic overlooks and pedestrian bridges, a dog park, kayak/paddleboard launch (plus seasonal outfitter), and a natural playscape for children.
Check out our video on Windsor Castle Park!

Time to hit the road for a lovely country drive out to Darden's Country Store and Smokehouse. The Darden family has run this 400+ acre farm and smokehouse for almost 70 years. If you're lucky enough to visit in the fall when they are offered, call ahead and plan your trip around one of the Darden's farm tours. Be sure to ask for a sample of their authentic country ham, smoked the traditional way in their on-site smokehouse. No one makes pimento cheese like the Darden's, so while you're there, stock up on it, along with some ham slices and other picnic items for your next stop – the beach!
Check out our video on Darden's Country Store and Smokehouse!

Enjoy another picturesque drive through Isle of Wight County's rural setting to take you to Fort Boykin Historic Park. Grab your picnic lunch and gear for a short walk to the fort's intimate beach along the James River.
Fort Boykin has been a part of American history since 1623 when a fort known as the Castle was constructed. Today, the fort remains as a well-preserved example of military architecture of the Civil War era. Fort Boykin is on the Virginia Birding and Wildlife Trail and is home to Virginia's second oldest black walnut tree (over 200 years old).
Check out our video on Historic Fort Boykin Park!

A second option would be to indulge a bit at SummerWind Vineyard and Tasting Room. Relax as you sample one of their local vintages in this beautiful setting. Be sure to call ahead to make special reservations if you're visiting during the week as the tasting room has limited regular hours on Fridays and Saturdays.
Check out our video on SummerWind Vineyard and other "Spirits" of Smithfield and Isle of Wight!

The town celebrates its history and traditions with its public art found throughout downtown Smithfield. You'll be charmed by the Porcine Parade - eight life-size pig statues decorated by local artists. The town's collection of bronze statues by George Lundeen is the largest collection in the US! And don't miss the whimsical mural depicting a pig farm painted on the brick wall outside the restaurant "Taste of Smithfield."
Check out our video on the Porcine Parde!

Life slows down a bit as you turn onto downtown Smithfield's Main Street. Take some time to stroll, to take in the town's art galleries, unique shops (all independently owned) and historic attractions.
Ready for dinner? With so many options for great restaurants in Smithfield and Isle of Wight, you'll have a tough time choosing where to eat. Wherever you go, you'll enjoy a scrumptious meal but be sure to leave room for an ice cream, pastry or a specialty coffee from one of our downtown shops.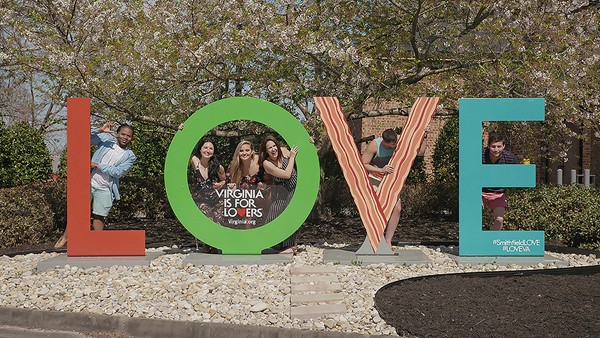 Last stop? Gather the family and friends for a photo at our LOVEwork statue located in front of the Visitor Center. You'll capture a memento of your visit to Hamtown USA. Hope to see again soon!