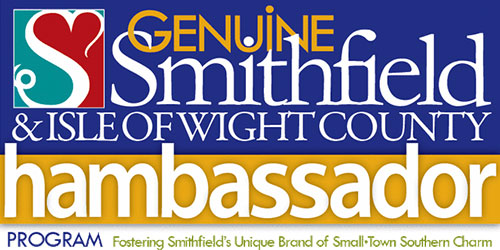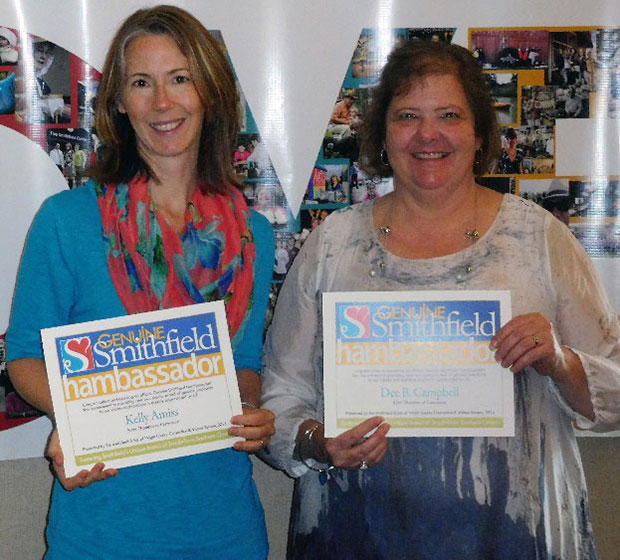 2016 Hambassadors Kelly Amiss & Dee Campbell with the Chamber of Commerce
Smithfield & Isle of Wight Tourism recognizes the vital role our "front line" employees in the tourism industry play in ensuring our visitors have a positive experience. The Hambassador Program offers these employees the opportunity to learn about local attractions in the town and county, their local tourism bureau and customer service tips. These employees - our Hambassadors - are then fully prepared to serve our visitors with quality customer service and offer them information on our local shops, restaurants, lodgers and attractions.

This program is offered to all who work in, contribute to, or support the tourism industry in Smithfield & Isle of Wight County including employees, employers, merchants, government employees, members of volunteer organizations, and interested citizens. We encourage employers to pay their employees for the time spent on the program. THERE ARE THREE STEPS TO BECOMING A HAMBASSADOR…The process is easy - and fun!

Register by completing the form in this package and either mailing, emailing or dropping it off at the Visitor Center to the attention of Connie Chapman (contact information for Connie is at the end of this page). Once registered, participants will be given a Hambassador Card to keep track of their progress and to turn in at the completion in the envelope provided.

Once these steps are completed, Hambassadors will receive a Hambassador Pin (pictured below), a letter of reference (for students) and a certificate of completion. Our Hambassadors will also be recognized at the Tourism Bureau's annual National Tourism Month Celebration in May.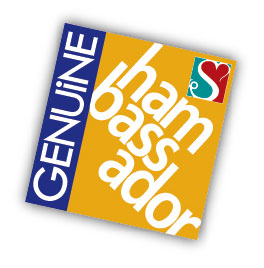 Here is what one of our first participants had to say about the program:
"I find the program very valuable. Smithfield has visitors daily and to make them feel welcome it is important my employees know places to eat and things to see and do. The Smithfield Center has a constant stream of visitors attending meetings, weddings and other events and I never want to hear one of my staff members say "I don't know" when a visitor asks "what is there to do here?"
Amy Murrill Musick
Director, Smithfield Center and Outdoor Venues

There are three easy (& fun!) steps to becoming a Hambassador:

Step One: Online Training
The first step in the process is to complete the online training program. This is not a test! You won't be graded! We simply ask that you read through the course. There are 14 pages which should take at least 30 minutes to complete. We hope you'll find the information interesting and informative. And we're sure you'll learn something new about Smithfield & Isle of Wight and why YOU are so vitally important to our local economy and tourism industry. If you lack access to a computer we can provide a printed version of the online course. Completing the online course is a prerequisite for Steps 2 & 3, so please be sure to email Connie to let her know that you have completed the online training - as instructed on the final page of the training. Connie will then contact you to arrange your familiarization tour. 

If you have already registered to participate in the Hambassador Program, click here to begin your online customer service training.

The final two steps do not have to be done in any particular order

Step Two: Visit Four Merchants
This step in the process is an important opportunity for you to experience Smithfield & Isle of Wight from the visitor's point of view and see how easily you can influence other potential visitors. Choose one restaurant, two shops and one lodger to visit (please do not choose the one where you work). The shopping, dining and lodging pages of our website (VisitSmithfield.com) lists the businesses frequented by our visitors. Afterwards, rate your experiences by answering the questions on the Hambassador Card. Please note! While we may pass on your comments on to the merchants, you will remain anonymous. No one will know who wrote the comments. This is why we ask that you return your Hambassador Card in the envelope provided.

Finally, post a review about one of your four visits on either Yelp.com or TripAdvisor.com and record the post on your Hambassador Card. Doing so will give you a sense of how easy it is to influence others – positively or negatively – about travel experiences. Assistance is available if you are uncomfortable or unfamiliar with posting to travel sites. Contact Connie to make arrangements.

Step Three: Take a Fam Tour
What's a fam tour? A "familiarization tour" is a guided tour of the wonderful attractions in our area. This tour is not taken to simply learn about our area. It offers our Hambassadors the opportunity to experience the attractions as a visitor would! Taking this tour will then make it much easier for them to speak knowledgeably about area sites to our visitors - from personal experience! Participants will board the tourism van to visit the area's two historic forts, St. Luke's Church, the Isle of Wight County Museum, the Schoolhouse Museum, and more. Even if you have visited these sites before, you and your group will be given a personal guided tour of each attraction and the VIP treatment! There is no set time or date for this tour. We will make arrangements to suit your schedule. At the completion of the online training you will be asked to send Terry an email and include potential dates for your fham tour. Be sure to ask the tour guide to sign and date your Hambassador Card at the end of the tour.

Once this final step is completed and the Hambassador Card is filled out and complete, drop it off or mail it to the Visitor Center in the envelope provided.

Please consider signing up today! To begin the process of becoming a Hambassador, let your employer know you are interested or contact Connie Chapman at the Tourism Bureau at 757.365.1644.

Click Here for Hambassador Registration Form.