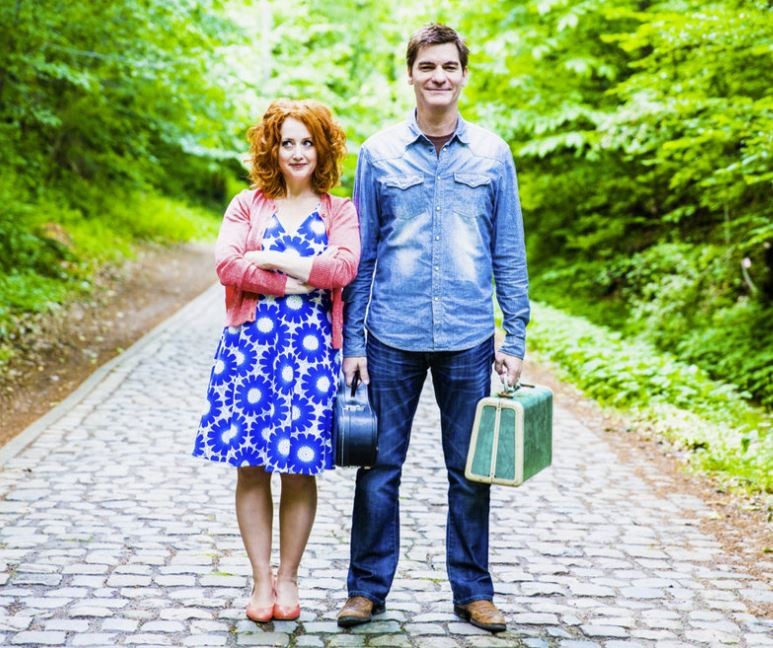 A Cajun Meets Vegan Day Trip from Colonial Williamsburg
By The ROAMies, August 29, 2023
All right, full disclosure I am not a vegan, I am vegetarian. But "Cajun Meets Vegan" sounds much cooler than "Cajun meets Vegetarian", don't you think? Plus, I just became a certified holistic nutritionist, and based in the health benefits I discovered - despite my love for cheese, chocolate, and ice cream - I am trying to move towards a whole foods plant-based diet. So I eat as a whole-food vegan…at least in my heart. Rory hails from South Louisiana and his cajun root run deep - and he pretty much eats anything. :) I want to live a long, full, healthy life so I can keep traveling, meeting great people, and experiencing all the amazing things that travel has to offer- just like we did in Smithfield, VA. So I want my food to be nutritious, AND I want it to be SUPER delicious. I'm always on the quest to find BOTH, and Smithfield nailed it! And In a town that was once known as "The Peanut Capital of the World," and now notorious as the "Ham Capital of the World," when Rory and I visited Smithfield Virginia, we took on the challenge to find something we BOTH love and enjoy not only in regards to food, but with all of our experiences.
We were staying in Williamsburg, VA for the week, and decided to make a day trip over to Smithfield. We had heard of it, but had never been there. It was super fun! Speaking of food. Somebody did say food, right? I'm pretty sure I heard a voice say food. It's not an uncommon experience for me. And, since Food is one of our favorite topics when talking about places we have traveled, let's start there…
Breakfast was our typical us-on-the-road-grabbing-a-banana-making-a-green-chocolate-mocha-smoothie-in-our-hotel-room-kitchen kind of thing. And, yes, it was vegan. Our on-the-way-to-the-ferry breakfast was in stark contrast to our first official awesome Smithfield adventure involving food, The Life of Ham Tour. This tour made Rory very happy. Especially one of the highlights, visiting Darden's Country Store. People from all over the world have visited this quaint country store, which is far more than just a store. They salt, hang, and smoke all of their own ham right there on property, using techniques that have been used since the earliest generations first settled in the area. They combine salting the meat with the smoking technique they learned from the native Americans. Rory was so excited to make a little mid-morning snack of one of Darden's famous Ham Biscuits (when you attend the Life of Ham Tour, you get your very own ham biscuit). If pigs could fly, Rory would have been walking on a cloud. I went vegetarian for a quick minute, because they had this really big wheel of sharp cheddar cheese. And they give free tastes! Yes, please! So good. Our wonderful Darden's Country Store snack held us over long enough to reach our lunch destination, the downtown Smithfield restaurant, Taste of Smithfield.
Nestled in the cozy, historic downtown of Smithfield, Taste of Smithfield blew us away. The setting and ambiance was spot on, and the food was fantastic. One of the cooks there has a background in plant-based cooking and created some amazing vegan options for me to experience. So WHEN you visit, just ask and they'll hook you up. I still got a taste of all of the seasonings and flavors of Smithfield that I would have experienced if I ate like a normal person. Listen to our podcast episode to hear more about our experience there. Rory ordered an appetizer to experience something we had never heard of or seen before: sweet potato biscuits with ham inside and drizzled with molasses on top. What a fun combination! And something so specific to Smithfield. All I could get out of Rory until he finished his appetizer were moans of ecstasy. Made me want to go home and try to make a vegan version of sweet potato biscuits. But take it from Rory, they are delicious. I got to have a plant-based barbecue Sloppy Joe sandwich with coleslaw. My mouth still waters when I think about it. It was sooo yummy and filling. And they even made vegan crab cakes and a vegetarian chowder. Rory had the Southern Pork Gent sandwich for his entrée (he wouldn't stop talking about how good it was), and he had an amazing dessert of German chocolate bread pudding. Our meal was outstanding. You gotta eat there. They also have their cute little gift shop inside the restaurant where us vegans, and of course, anybody, can purchase a wide variety of peanuts that are signature to the area, Smithfield boasting a legacy of a nice plant product that came from the ground. :-)
In the hunt for a vegan dessert, we learned the adorable Smithfield Ice Cream Parlor in the downtown square has sorbet and sherbet options as part of their 32 available flavors.
In the afternoon, we of course had to hit the local coffee shop, Cure Coffeehouse. It's right there in the historic downtown area. I'm launching a tea line soon, and learned about a tea flavor called Paris, which I had to try, and Rory had a single origin, freshly ground, Honduran pour over coffee. It was a good stop. We were also told to check out the Farmer's Table that brings in local meats for you cajun-at-heart folks. And though no vegan options for ice cream, they do have soft serve with toppings available and they make their own hard serve ice cream and sell it in jars. Super cute.
For dinner we hit Smithfield Station and enjoyed a beautiful, romantic dinner. Which was a perfect ending to our Cajun Meets Vegan adventure. The scene and weather were so romantic. We were sitting outside to eat, overlooking the marina and river as the sun set. This can bring even cajuns and vegans together to a happy place!
We did do more than just eat.
Rory especially loves history, and the town is steeped in it. So we wanna tell you more about Kathy's The Life of Ham tour, where we learned all about the history of ham in the area. The tour gave great insight into the history and people of Smithfield - from its ham to its homes. In Smithfield, a home that's only 100 years old is considered new. And as it turns out, it's the same with hams! They have a salted, smoked ham as old as the homes! It has its own collar, leash and name-tag. And it's still edible! Rory got so excited. Thankfully, it was protected behind glass on display at the Isle of Wight County Museum. And, of course, while there I soaked up all of the history to be discovered about Smithfield once being known as the Peanut Capital of the World. The museum was a great highlight of the tour. Rachel, the curator, told fun stories that made their displays come to life, adding depth and personality to everything on display. We also were taken to Windsor Castle Park and Rory's favorite part was the outbuildings that contained the smokehouse where they prepared and curated ham "back in the day." We had so much fun with Kathy and Deb, who guided our Life of Ham Tour.
Continuing the dive into history, when visiting Smithfield, you can also experience Fort Boykin (est. in 1623) and Fort Huger - both active during the Civil War. Rory commented more than once on how he could feel the rich history in the atmosphere all around the area.
The countryside is beautiful everywhere you look, and we got to take a wonderful kayak and paddle board ride down the river. This was my first paddle boarding of this year and it was great to get back out on the water and in such a beautiful place - and of course Rory had to paddle his kayak into the marsh area of the river and explore the tall grasses. It's inspiring to take in the scenery from the water. We also learned about some really cool walking trails at Windsor Castle Park that wind along the water, take you through beautiful scenery, and let you get a taste of the history of the area as well as seeing current farms and horse ranches.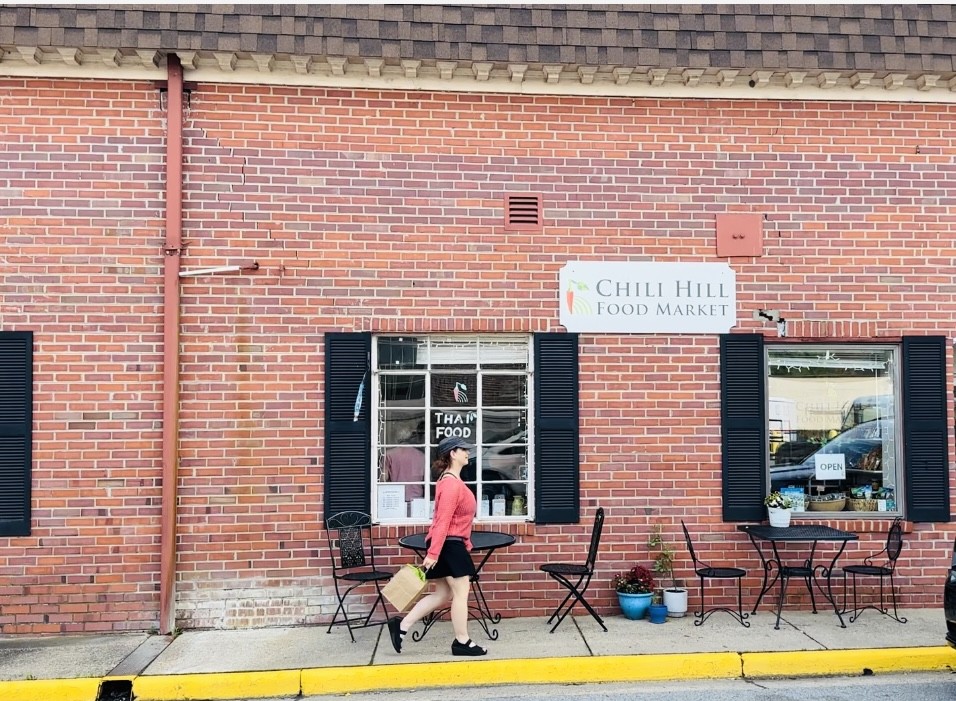 So many things continued to bring us together as we spent the late afternoon walking the town experiencing all the different shops. We enjoyed our visit at the Chili Hill Food Market - a farm to table Thai market and restaurant. The Perfectly Natural Soap shop was super fun to explore, with its natural, clean, healthy, beautiful skin-care products, lotions, soaps, candles and so many more wonderful things. It came highly recommended to us. And while we don't normally spend our money on shopping excursions when we travel, I decided I "NEEDED" some of those goodies to take home with me. ;) Rory, especially loved looking at all of the unique items at the Hamtown Mercantile. Locally handmade knives seriously caught his eye. He could just imagine all the meat they could cut for dinner. :) We got an unforgettable tour of St. Luke's Historic Church & Museum. And being musicians, Rory and I were blown away to see what is likely the oldest organ in the U.S., a beautiful wooden pump organ originally from England. Even the pipes are carved from wood. The Art Center (that shares a home with the Visitor's Center) also fascinated BOTH of us. See a bit of our experience here:
https://www.instagram.com/reel/Ct2R3iJpAqA/?igshid=MzRlODBiNWFlZA==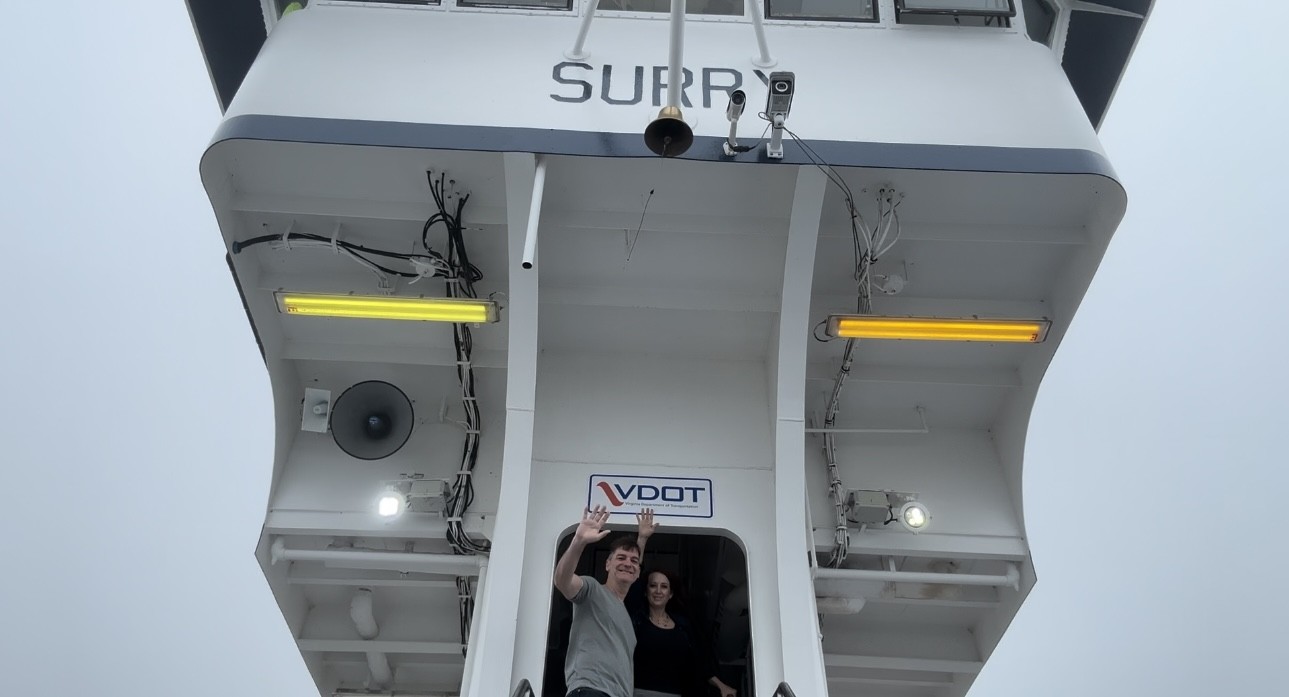 Our day trip from Williamsburg began and ended with the Jamestown-Scotland Ferry (Surry) ride that took us to and from Smithfield. Something we both enjoyed. Both of us love the fresh air. And having grown up near, and on, the water, Rory enjoyed the slightly briny smell. And he probably dreamed of fishing or alligator hunting or something.
Virginia is for lovers, and even a cajun and a vegan can come together and experience the LOVE. Bottom line is that Smithfield is definitely a place to visit especially as a day trip from colonial Williamsburg. There are so many things to enjoy, something everyone, no matter what your taste.
We know you'll enjoy listening to our podcast and hearing our conversations with the locals, and about our fun experiences. We've only scratched the surface here in this article. So tune in, sit back and enjoy our stories and soundbites from our experiences in Smithfield, Virginia with the link below.
We hope we've inspired you to plan YOUR getaway to Smithfield, Virginia.
With LOVE, Rory and Alexa Partin
The ROAMies
Follow us on Socials: @TheROAMies
Alexa and Rory James, creators of the ROAMies Podcast visited Smithfield in June 2023. Enjoy their episode "Cajun meets Vegan in Smithfield & Isle of Wight" as they explore all the area has to offer and take a tour of Hamtown. Are you team peanut or team ham?!