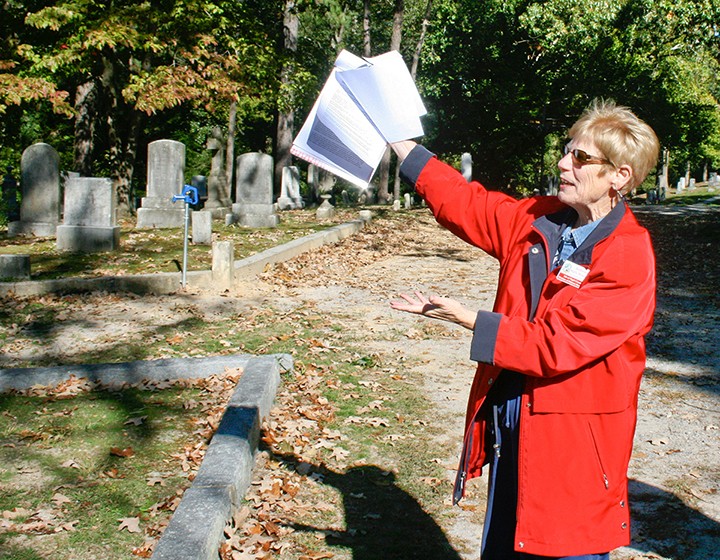 Civil War soldiers, local business giants, and families of note who tell the story of Smithfield are represented in this lovely cemetery overlooking the banks of the Pagan River. A tour of Ivy Hill Cemetery, listed on the Virginia Landmarks Register, is a peaceful way to spend an hour or two. The site was farmland until 1886 however many of the headstones are marked with an earlier date because they were moved from other areas due to Ivy Hill's prominent standing in the community. There are veterans from many wars and graves of the most influential families in our town's history located here. This tour includes a description of the history of the rural cemetery movement which began in the mid-19th century.
To finish your day in Genuine Smithfield, we suggest lunch at the Taste of Smithfield (or any of our fine dining establishments) and then a sweet finish to your tour at the Smithfield Ice Cream Parlor.
Free Guided Tours of Ivy Hill are held the second Saturday of the month at the cemetery at 10:00 a.m. from March through November (weather permitting). Call 757.353.1699 for details.
Our tourism professionals are happy to design a specific tour to suit your group's time frame and interests - with or without a guide - FREE OF CHARGE. Our Step-On and Guided Walking Tours are also available for a fee (listed below). Contact our staff for a fun filled visit to our charming and historic area.
Kathy Mountjoy at (757) 408.1935 or kwmountjoy@gmail.com.

Tour design: FREE! This also includes assistance with dining and lodging reservations!
Step-On bus tours: $5 per person

Different rates may apply according to the size and type of tour provided.